LASIK Alternatives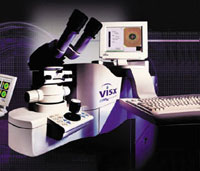 Some patients are found not to be candidates for LASIK surgery. There are quite a few things that can factor into making LASIK unavailable for some people. Some conditions, such as a thin and unstable cornea, can make LASIK surgery complicated and increase the risk of serious side effects. However, Hirshfield Eye Center offers other surgical alternatives to LASIK that may be appropriate for you.
PRK (photo refractive keratectomy) is a type of refractive surgery, very similar to LASIK, performed to correct nearsightedness, farsightedness and astigmatism. PRK has been around longer than LASIK, and is the first type of laser eye surgery for vision correction. PRK takes longer to recover from, but does have some advantages over LASIK eye surgery for some patients.

The biggest difference between PRK and LASIK is that instead of creating a thin corneal flap, the entire outer (epithelial) layer of the cornea is removed. This exposes the area called the stromal layer, which is then reshaped by an excimer laser, just like during LASIK. Because PRK surgery does not create a flap in the cornea, the entire underlying stroma is available for treatment, unlike during LASIK.

PRK has the same outcome of LASIK, but takes longer to recover from because it takes a few days for the new epithelial cells to regrow and cover the surface of the eye. This means that there is a higher risk of infection and haziness within the first few days, so extra care should be taken.

If you would like to know more about PRK and if whether it will work for you, contact our office in the Queens area. We look forward to helping you gain you best vision yet!