Implantable Collamer Lens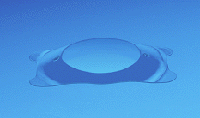 This is a technology made by Staar Surgical that allows us to place a lens inside your eye behind your iris and in front of your natural lens to correct nearsightedness. In general, this technology is reserved for those who are not the best candidates for laser vision correction procedures such as those with thin corneas or relatively high corrections. Soon, and coming to Hirshfield Eye Associates in Queens, there will be a toric version available to also correct astigmatism.

Introducing a solution for patients with high amounts of nearsightedness. The Visian ICL™ is a revolutionary refractive lens that can correct vision up to –15 diopters of nearsightedness.
The Visian ICL™ procedure has been repeatedly improved through years of rigorous studies and continued refinement. This lens is a posterior chamber implant that is situated behind the iris and in front of the natural crystalline lens. It is also known as a Phakic IOL. The surgery is performed on an outpatient basis here at Hirshfield Eye Associates in Queens, which means that a patient has surgery and leaves the same day.
The Visian ICL™ is made with Swiss precision from Collamer. Collamer, a collagen copolymer is a proprietary biocompatible material formed from pure collagen and a hydrophilic copolymer with a UV absorbent chromophore. This material has been used in procedures to treat the eye for over 15 years now and considered very safe.