Contact Lens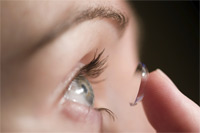 After an eye exam, contact lenses are fitted by a certified contact lens specialist directly supervised by our ophthalmologists in Queens. We fit all types of common and specialty lenses. We carry all the top brands of contact lenses including Acuvue, Coopervision, Biomedics and Hydrogel as well as less common custom lenses. Daily disposables, biweekly disposables as well as planned replacement lenses are all available in powers that correct farsightedness, nearsightedness and astigmatism. For those of us over 40 years old that require both far and near prescriptions we offer monovision contacts, bifocal contacts and the newest progressive addition contact lenses. For patients that have corneal disease causing irregular corneas and poor vision we have available all types of rigid gas permeable(RGP) and hybrid lenses. RGP lenses will also give the clearest possible vision in patients with high levels of astigmatism.
Our eye exams and contact lens fittings are guided by the patients' needs and comfort. We use the refractive error, which is the eyeglass prescription, as well as keratometry, which is the measure of the curvature of the cornea. We also measure corneal topography and corneal wavefront analysis which is done with a sophisticated computerized machine called a corneal topographer. This highly technical information combined with the personal needs and desires of the patient will nearly always result in a comfortable fit of lenses yielding excellent vision.
Laser vision correction
Of course for those who would rather not be so dependent on glasses or contact lenses our ophthalmologists do offer all of the latest technology in laser and non-laser vision correction surgery in Queens.