Accommodating and Multifocal Implants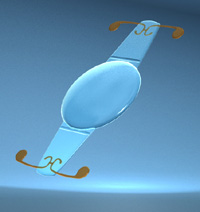 An accommodating intraocular lens is one that can move or change its shape in the eye. By doing this it changes its power so that it can focus from far to near. The only accommodating lens currently available is Crystalens made by Bausch and Lomb. This is wonderful technology and is especially useful in those people who want the crispest distance vision as well as an excellent ability to see intermediate distance which includes things like computer screens, grocery shelves and auto gauges. In fact much of our time is spent looking at things in the intermediate range. Most people who receive Crystalens implants in both eyes are thrilled with the quality and range of their vision. The one drawback of this lens is that some people will still need glasses for very close vision and when trying to read the smallest print.
This technology is changing and improving all the time. There are many new and innovative types of accommodating lenses being studied and that will soon become available. Be sure that Hirshfield Eye Associates in Queens is always at the forefront of this new technology and will offer it to our patients once it is been shown to be very safe and to be very effective.
Multifocal Intraocular lenses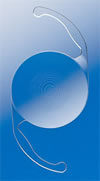 There are currently two lenses in common use and other technologies being developed One is the Restore lens from Alcon. The Restore lens uses a sophisticated optical principle called apodized diffractive optics. While this lens doesn't refocus in the eye it splits the light rays into two components, one for far and one for near. The most advanced version called the Aspheric Restore is very well received and has been giving patients excellent reading and distance vision.
The drawback of this lens is that certain people will not enjoy the vision with this optical system. They may complain of glare and halos that cause some difficulties. Usually these are minor and are acceptable to the patient in order to be almost completely free of glasses. Also, the near vision with this lens is very good but the intermediate vision may be somewhat compromised, however, it has been observed that the intermediate vision does improve with time.
The Tecnis multiocal is a high quality diffractive optic lens that also splits the light rays between far and near objects. This lens offers excellent distance and reading vision. Hirshfield Eye Associates of Queens has vast experience with all of these technologies and can help you make the best choice for your needs.
Intraocular lenses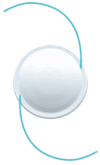 During cataract surgery your natural lens is removed from your eye because it has developed a cataract and it is necessary to replace that lens with an intraocular lens implant. 30 years ago before we had these available people required very thick "cataract glasses" or strong contact lenses in order to see well. Now, except in very unusual circumstances, everyone who has cataract surgery has an intraocular lens implant or IOL. Until recently nearly all IOL's were monofocal. This means one focus point which means that we normally would choose a lens to give as good distance vision without glasses as is possible. In this situation you would need to use reading glasses for anything closer than about 3 feet away. Many people are very happy to have clear distance vision and don't mind being absolutely dependent on reading glasses. In some special circumstances we can pick a monofocal lens so that the near vision is clearer without glasses but then you would absolutely require glasses for distance activities such as driving, television, movies etc. The point is that while cataract surgery with a monofocal IOL is very effective you will absolutely be dependent on glasses for either distance or near. There are advanced technologies that help us move beyond the limitations of a monofocal IOL. Each of these technologies has its advantages and disadvantages. Dr. Hirshfield will be able to direct you to the appropriate technology for your eyes.