Eye Wear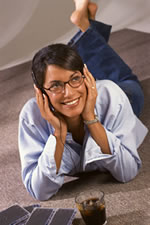 Our optical department in Queens features a large and diverse selection of frames and lenses. After seeing one of our ophthalmologists You will be fitted by a licensed optician for the latest fashion and best function available. We have the top designer frames such as those from Kate Spade, Silhouette and Calvin Klein for example. We also carry a large selection of beautiful mid-priced designer frames such as those from Nine West, Sophia Loren, Randy Jackson and Stetson among many others. For those who are more budget conscious we also have a selection of lower priced frames that are guaranteed like our more expensive frames but at a lower cost.
Our optical department only uses the finest lenses available so that your safety and quality of vision is maintained. We offer the latest and greatest in lens technology. Our HOYA certified optician will be able to educate you in the best lens options to fit your lifestyle.
When you receive a prescription for glasses from one of our ophthalmologists and have the glasses made in our optical department your satisfaction is guaranteed. Rarely if a problem occurs with any eyewear dispensed from our Queens optical department it will be rectified by the optician and if need be you will be rechecked by the doctor.